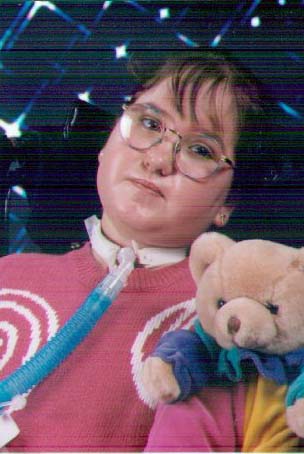 The Story of D Bear....

"Hello Tia,
My name is 'D Bear'. I came to live with you and keep you company. I brought lots and lots of hugs from Doris and John Newnam, your friends in Texas.
I'll have hugs for you every morning when you wake up, and every night to wish you 'sweet dreams'. I also have hugs for you just any ole time you want one - that's my job - to keep you company and to give you lots and lots of hugs every day.
Hugs & Love,
D Bear"

"Hi Tia,
We hope you enjoy D Bear. He was named after Doris, also, Texas D. He comes with special love and best wishes for you. A special ribbon is attached so that D Bear can be tied to your chair and sit in your lap, if you wish.
D Bear is so soft, cuddly, and sweet. We knew he would be just right to keep you company. We gave him lots of hugs to take to you. One for everytime you want one no matter what the reason.
Love, Hugs & Kisses to A Very Special Girl!
Doris & John Newnam, September 3, 1997."


Dear Friends,
D Bear's mission has extended to now include going with Tia to her new home. He will be with her forever with lots of love, hugs and kisses to keep her company. Tia and D Bear are joined by another little white bear named 'Tia Bear'. He just barely got to Tia before she went to Heaven. He is wearing a little red sweater that says he's from Palm Springs. Both D Bear and Tia Bear are very honored to help her make her Heavenly journey. They represent all of the love from all of Tia's family and friends. They promise to help God take very good care of her.
---
Tia's Family
Tia's Friends
Click Here for Tia's Story
July 11, 1998